Palm_Sunday_761250-09-01__April52020.pdf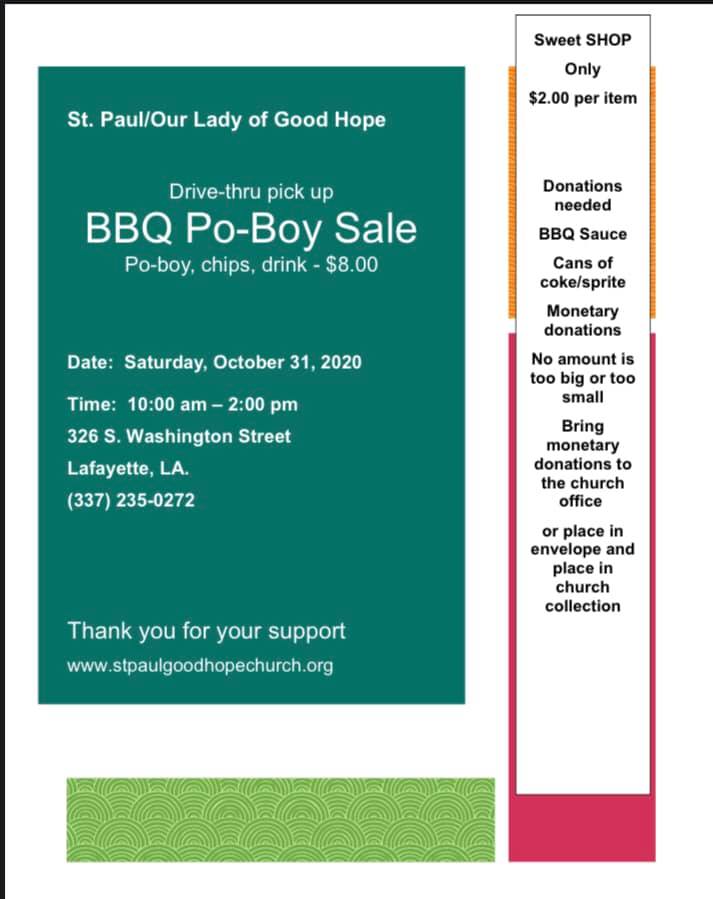 Diaconet Formation:
Diocese of Lafayette is currently accepting inquiries for deacons. For more details, click the link below
Family Registration
Our hands and hearts are always open to welcome you in Christian fellowship! Longtime residents and newly arrived in the parish, if you are not registered, please complete the registration form and place it in the collection basket, mail it to the parish office: 326 S. Washington Street, Lafayette, La 70501, or email it to This email address is being protected from spambots. You need JavaScript enabled to view it..

Offertory Envelopes
Any registered member of St. Paul/ Good Hope Church Parish may request offertory envelopes to help keep track of their contributions. Your envelopes will normally be mailed to you within two months after request is received. If requested, an IRS tax statement of your donations will be provided. To obtain offertory envelopes, please contact the office.
Annual Fall Tax Appeal
We are asking each family to donate $50 or more to our annual Fall Tax Appeal. All money collected will be used to cover daily expenses of the church such as utilities and other needed expenses. You may make your donations online through the online giving app or place it in the church collection. Please be generous.
Sacremental Certificate (s) Request
Certificates for Baptism, First Communion, Confirmation, Marriage or Death will be provided upon request. Please contact the office.
St. Paul Church Hall Rental
The church hall can be rented for events. To check the availability and get additional information, please contact the manager, Mrs. Bessie Thibeaux at ​ (337) 235-0272 or (337) 254-2865.