Little Theresa Court #11
This court is one of the oldest in the Diocese of Lafayette. The intent and purpose of the KPC Ladies Auxiliary organization is to render service to God and His Holy Church; to be faithful to its doctrines and sensitive to the needs of the church family and community.
For more information, contact the Grand Lady Henrietta Robertson, 337-235-0272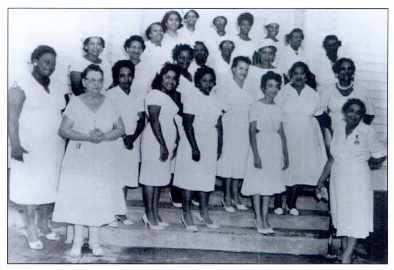 (Photo is courtesy of Clerk of Court Louis J. Perret )
Little Theresa Court #11 Charter Members
---
KPC Jr. Daughters
The KPC Jr. Daughters Catholic Youth Auxiliary was founded in 1830 as a way to offer opportunities for our youth in the areas of spiritual, social, educational, physical, civil, and cultural growth. The organization strives to build good character and leadership qualities in our youth. They meet monthly and are involved in many of the church ministries as well as community service projects.
For more information, contact Grand Lady Henrietta Robertson, 337- 235-0272